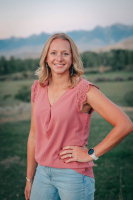 Nikki Schuler
(C) (208) 756-7548
NikkiSchuler@mtnwestrealestate.com
Originally from rural Pennsylvania, I first visited Salmon in 2009, and like many others, instantly fell in love with the mountains, the River and the people. In 2017 I officially made Lemhi County home.
I am a graduate of the United States Naval Academy with a Bachelor of Science degree in Economics, a ten-year veteran of the U.S. Navy and Marine Corps and deployed in Support of Operation Iraqi Freedom while onboard the aircraft carrier USS Ronald Reagan (CVN 76).
My love of real estate began ten years ago when I invested in my first residential income property. My passion has grown over the years as I continued to invest in residential and commercial real estate. My desire to serve my community and help others is rooted in who I am.
As Mountain West's newest REALTOR® I look forward to helping clients realize and achieve their real estate goals and feel lucky to be a part of my client's real estate journey.
Feel free to stop by 701 Main Street or call me at 208-756-7548 to say hello.